The following marketing material has been created for dissemination and communication purposes:
Logo

Press Release
Initial Press Release of project in English /German / Japanese (January 2018).
Animated logo
Immersify logo 8K 7680×4320 60fps
Flyer
A flyer was created to communicate at different dissemination events the project objectives and outcomes to interested parties.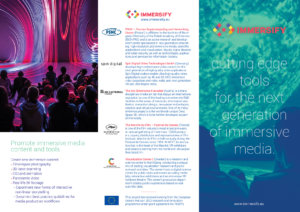 Roll ups
With a height of 2 meters, the roll ups help to increase the visibility of the project in exhibitions and events. The roll ups describe the project consortium and include key messages for people to better understand the aim of the project.


Poster
The Immersify poster describing the consortium and the project objectives was created for dissemination at workshops and conferences.