The theme of this year's Ars Electronica Festival, the festival for Art, Technology and Society, is In Kepler's Gardens – A global journey mapping the 'new' world. It is the metaphor for the organizational principle of the festival in a global lockdown: a festival that will not dive into the network and disappear there, but will emerge from the network and manifest itself in many places around the world, distributed and networked. The festival will take place from September 9 to 13, connecting people from all over the world via on-site events and online live streams.
For one last time the Immersify partners will team up to showcase some of the contents produced within the Immersify project – but also some new contents! During the Ars Electronica Festival 2020, three demonstrations will be presented at the Deep Space 8K as well as via the festival's four online streaming channels:
The Meeting Point – 8K streaming from immersive multimedia labs at PSNC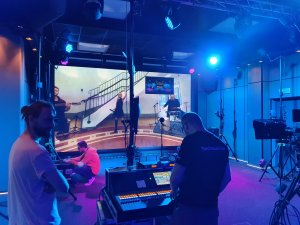 Live Stream: Thu Sep 10, 2020, 10:00 am – 10:30 am (CEST) | Program info
In Ars Electronica's Deep Space, a video in 8K resolution with multichannel sound will be transmitted live from PSNC in Poland, and realized with the use of several modern techniques using prototype hardware and software. It will also be a short trip through some of the experiments and implementations that have been successfully done in the last few years as part of the Immersify project, complemented by footage from Poznan City in search of the right "meeting point".
Lost in Resolution – 16K Video and 3D Audio Playback for Large-Screen Immersive Spaces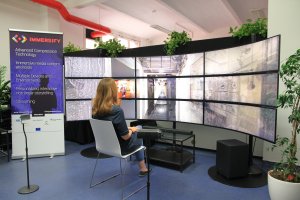 Live Stream: Thu Sep 10, 2020, 11:00 am – 11:30 am (CEST) | Program info
Spin Digital will give an introduction on the Immersify project and the work performed on tools, content, and spaces for immersive media, including a presentation highlighting the requirements and potential of a new generation of immersive and interactive media applications that combine very high resolution video with 3D audio. A content showcase including three content pieces that feature 16K 360° video with 3D audio based on ambisonics and user interaction will also be presented at the Deep Space 8K.
The Translucent St. Stephen's Cathedral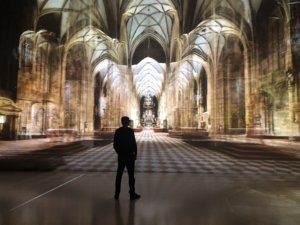 Live Stream: Sat Sep 12, 2020, 4:15 pm – 4:40 pm (CEST) | Program info
After a sneak peek in June this year, we are now officially premiering The Translucent St. Stephen's Cathedral! During the Ars Electronica Festival, Deep Space 8K visitors are daily invited to an interactive 3D-journey through high-resolution 360° images of the Viennese St. Stephen's Cathedral. The images, consisting of more than 21 billion laser points, together make up the multiple layers of transparency of the beautiful sacred building. This brand new project gives you exclusive insights of the cathedral from the rooftop to the catacombs. One session will be accompanied by some of the team members and streamed live.
Another Immersify demo will be showcased at one of this year's many festival locations, the Johannes Kepler University in Linz:
Virtual Anatomy – Preview of the JKU MedSPACE
Fri Sep 11, 2020, 1:00 pm – 4:00 pm
Sat Sep 12, 2020, 10:00 am – 1:00 pm; 2:00 pm – 5:00 pm; 6:00 pm – 9:00 pm
Program info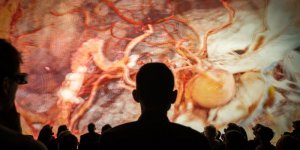 The Johannes Kepler University Linz (JKU) is currently constructing a modern, future-oriented multi-purpose learning space at the JKU Faculty of Medicine's new medical education and research building called JKU medSPACE. It is modeled after the Ars Electronica Center's Deep Space 8K and scheduled to open in 2021. Top use-case scenarios in the Virtual Anatomy Room include high quality, vivid and photo-realistic visualizations of medical information, such as MRIs and CT scans, for educational and training purposes. A short demonstration of the content usually shown to students and the Cinematic Rendering process developed by Siemens Healthineers, which lays behind the visualization, will be presented multiple times during the festival.
Join us on this journey either via the live streams or book your festival ticket on the Ars Electronica Festival website. See you there!