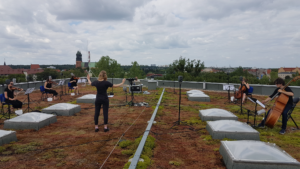 Outdoor recording of ambisonics sound and the 360° video on the roof of the PSNC building using own 360° rig
Poznań, Poland, Summer 2019
#16K #360 #ambisonics #psnc360rig
Introduction
The idea of this footage was to record ambisonic sound and 360°/VR video content in outdoor conditions and to obtain both interesting background sound and 360° image in higher resolution with the help of a custom constructed 360° rig consisting of 8 BlackMagic cameras. Due to the 360° video recording, we wanted to choose a place to be visually attractive. For this purpose, we decided to use the roof of the PSNC building , which allowed us to get amazing scenery and a lot of details. From the musical point of view, we recorded Jan Skorupa's original contemporary composition entitled: "The Noise and The Structure". This composition is written for string quintet (double bass, cello, viola, violin, violin), five crystal bowls and an electronic layer performed live in an eight-channel octagonal system. All the musicians, as before, were placed in a circle, in the middle of which an ambisonics microphone and a camera rig allowing for 360° recording at 16K resolution was set up.
Technology
Custom 360 rig composed of 8 Blackmagic cameras

RED EPIC-M DRAGON 

BlackMagic Cinema 4K camera

Various types of microphones for multitrack direct source recording for HOA using Dante Audio network
Team
Eryk Skotarczak – Cameraman

Leszek Nowak – Cameraman, Edit

Maciej Jaśkiewicz – Cameraman, Edit

Wojciech Raszewski – Sound

Jan Skorupa – Sound

Magdalena Madaj – Photo documentation

Maciej Stróżyk – assistance

Bartłomiej Idzikowski – assistance

Maciej Głowiak – assistance
Credits, Special Thanks
Zuzanna Remiorz – Violin

Katarzyna Stróżyk – Violin

Julia Polowczyk – Viola

Małgorzata Namiot – Cello

Filip Szymański – Contrabass

Marta Kaca – Conductor
Information
These movies have been produced in the scope of the Immersify project. On this page you can find a preview of video clips. If you would like to obtain permission to use the audio-visual contents in full resolution please contact us: info@immersify.eu. We can provide you with the ultra-high definition quality videos in HEVC or uncompressed TIFF/DPX files.