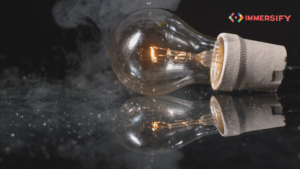 3D recordings in PSNC studio made using slowmotion technology with two Phantom Flex 4K cameras and 3D rig
Poznań, Poland, 2019
Introduction
The PSNC used two ultra high-speed cameras capable of recording 4K video at about 1000 frames per second to record the falling objects frozen in the Liquid Nitrogen. This speed allows us to record and see phenomena that are invisible at normal speed. Using 60 fps recording with 1000fps camera, we can achieve slow motion effect and can see every detail of the processes. Additionally, an innovative approach was to synchronize two independent HFR cameras and make a 3D recording using a special 3D Stereotec rig.
On the recordings you can see, among other things, watering of light bulbs, frozen jelly and tulips crashing on the sheet of plexiglass and a flying mini-drone.
Technology
2x Ultra High-speed cameras Phantom Flex 4K

3D rig from Stereotec

Liquid Nitrogen for freezing objects

Monitor BVM-X300

More than 6kW of ARRI HMI Film Lighting
Team
Paweł Rybarczyk – Cameraman

Eryk Skotarczak – Cameraman, Stereographer, Camera assistant

Leszek Nowak – Cameraman, Camera assistant, Edit

Jacek Walczak – assistant

Wojciech Raszewski – assistant

Maciej Rutkowski – Coordination
Credits, Special Thanks
mgr Marta Rachwalak, Department of Nucleoside and Nucleotide Chemistry, Institute of Bioorganic Chemistry Polish Academy of Sciences
Information
These movies have been produced in the scope of the Immersify project. On this page you can find a preview of video clips. If you would like to obtain permission to use the audio-visual contents in full resolution please contact us: info@immersify.eu. We can provide you with the ultra-high definition quality videos in HEVC or uncompressed TIFF/DPX files.