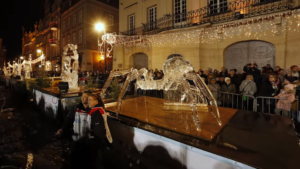 Timelapse in 3D showing the long process of ice carving during Poznań Ice Festival
Poznań, Poland, December 2019
Introduction
Since 2006, every year the Poznan Ice Festival has been attracting crowds becoming one of the greatest points of wintertime in Poznań. It's an international competition hosting guests from all over the world. Some of them come from places familiar with ice like Canada, USA or Poland but also from countries you wouldn't even suspect: Philippines, Malaysia, Spain.
For the PSNC film crew the festival was an opportunity to test the 3D timelapse. A few hours of ice carving process was a perfect scenery for this. Two Canon 5DSr photo cameras placed on a special ring and situated on a pedestal were taking a 8K 3D timelapse for about 8 hours at a temperature close to 0 degrees Celsius. By the way, we managed to get a record of the amazing ice spider sculpture that won the competition (authors: Antonio and Ross Baisas).
Technology
Team
Maciej Jaśkiewicz – Cameraman, Edit, coordination

Maciej Głowiak – Assistance

Maciej Stróżyk – Assistance

Magdalena Wilk – Assistance

Mikołaj Węgrzynowski – Assistance
Credits, Special Thanks
Ewa Rutkowska-Krzyżaniak, Mayor's Office Poznan City Hall

Antonio Baisas, Ross Baisas, ice sculptors
Information
These movies have been produced in the scope of the Immersify project. On this page you can find a preview of video clips. If you would like to obtain permission to use the audio-visual contents in full resolution please contact us: info@immersify.eu. We can provide you with the ultra-high definition quality videos in HEVC or uncompressed TIFF/DPX files.