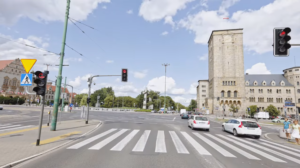 Timelapse in 3D from the car drive through streets of Poznan
Poznań, Poland, Summer 2019
Introduction
PSNC produced a short 8K 3D time-lapse by mounting two photo cameras on the car roof. The content was recorded during the driving through the most interesting places in the city of Poznan. It is certainly a different view of the city, where even traffic jams are not so terrible. The final clip has been produced in 8K 3D.
Technology
Two photo cameras Canon 5DSr + rig + car mount
Team
Leszek Nowak – Cameraman, Edit

Maciej Jaśkiewicz – Cameraman, Edit
Information
These movies have been produced in the scope of the Immersify project. On this page you can find a preview of video clips. If you would like to obtain permission to use the audio-visual contents in full resolution please contact us: info@immersify.eu. We can provide you with the ultra-high definition quality videos in HEVC or uncompressed TIFF/DPX files.