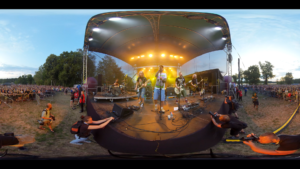 360 and ambisonics recording during Luxfest rock festival in Poznan
Poznań, Poland, 2019
Introduction
Luxtorpeda band was founded in Poznan in 2010 by a charismatic leader Robert 'Litza' Friedrich and now is one of the most popular Polish rock bands. In 2011 they released their debut album; since that time they've released another 3 albums and the band has been awarded many times in Poland and abroad. Luxtorpeda is also interested in new means of expression through technology. 
The opportunity for collaboration was Luxfest concert in July 2019, where VR and ambisonics audio session was recorded by PSNC. In this case, due to the lack of possibility to build our own microphone setup, we had to base the recording only on the ambisonics microphone and sums from the mixer of the sound engineer of the concert. In this case we wanted to recreate the full stage atmosphere where, combined with 360° video shootings, the recipient would have the impression of finding themselves live between the band and the audience. We placed the ambience microphone together with the 360° camera at the edge of the stage. This setting made it possible to avoid placing the microphone within the array of the main speaker system. The most interesting effects of spatial sound were achieved during the singing of songs by the audience.
Due to the commercial limitations of the rights, the content may be shown only for the Immersify project dissemination and can't be published in Internet or other public broadcasting channels.
Technology
Insta360 Pro video camera

Insta ONE video camera

Ambisonic microphone – Ambeo VR Mic from Sennheiser
Team
Leszek Nowak – Cameraman, Edit

Wojciech Raszewski – Sound

Bartłomiej Idzikowski – Coordination
Credits, Special Thanks
Information
Due to intellectual property rights the videos and images of the production of this content cannot be published here.