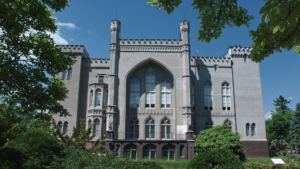 8K 3D videos taken in the arboretum of the castle in Kórnik near Poznań
Kórnik, Poland, May 2018
Introduction
Kórnik Castle is a castle in Poland, which was constructed in the 14th century. The current neogothic design and remodeling was done in 1855. The current look of the castle resembles Gothic Revival architecture, one of popular historicising styles in the 19th century.
The castle is surrounded by Kórnik Arboretum founded by Count Tytus Działyński in the first half of the 19th century – the oldest and largest one in Poland as well as the fourth largest arboretum in Europe covering around 40 hectares and containing more than 3300 taxa of trees and shrubs.
In this idyllic scenery, in May 2018, the PSNC team recorded footages of flowering plants in the arboretum using two 8K cameras and a 3D rig, due to lack of power in the park, battery supply of the cameras and all equipment was used. The editing process took quite a long time because of the large volume of 8K 3D raw data and time-consuming post-production but thanks to the use of 8K technology it was possible to capture the richness of colours and details of the filmed plants, and the stereoscopic technology further expanded and strengthened the final effect.
Technology
2x 8K SONY F65 camera

Stereotec 3D rig

Chrosziel Alladin + 2x Magnum Lens control system

Matrox MC-100 for local stereo preview
Team
Paweł Rybarczyk – Cameraman

Eryk Skotarczak – Cameraman, Stereographer, Camera assistant, Edit

Leszek Nowak – Camera assistant

Magdalena Madaj – assistant

Maciej Głowiak – assistant

Adam Łoś – assistant
Credits, Special Thanks
Institute of Dendrology, Polish Academy of Sciences

Arturas Zeima, Haris Lekavicius, Sarunas Nartautas – help and assistance during student internships
Information
These movies have been produced in the scope of the Immersify project. On this page you can find a preview of video clips. If you would like to obtain permission to use the audio-visual contents in full resolution please contact us: info@immersify.eu. We can provide you with the ultra-high definition quality videos in HEVC or uncompressed TIFF/DPX files.