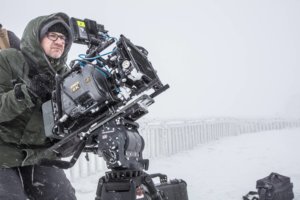 Winter shooting of 8K in mountain area and negative temperatures
March 2018, Szklarska Poręba, Poland
Introduction
Due to the fact that this year winter in Poland was quite cold and snowy we had a chance to try 8K real winter shootings in Polish mountains. Our choice was Szklarska Poręba, beautiful small town located at the foot of the mountain range of Karkonosze. Particularly, five nice places were selected, three in the mountains and two just close to town:
Szklarka Waterfall
Kamieńczyk Waterfall
Szrenica Peak
Wang Temple in Karpacz
Glassworks in Szklarska Poręba
Frozen waterfalls and winter mountain panoramas from the Szrenica peak (1362 m above sea level) were the main goal, but additionally we recorded the Wang Temple, built originally from pine logs in Norway at the turn of the 12th and 13th centuries. The building was transported in 1842 to Karpacz (Poland) and is now considered the oldest surviving wooden church in Poland.
Another place that was visited and filmed was a glassworks called "Leśna Huta", where our film crew was very warmly welcomed and the glass-specialists showed our camera their work.
Story



The preparations for the winter shootings in scope of Immersify content production activities started about two months before the scheduled date and it contained equipment preparations as well as long formal organization. We had to contact with Karkonosze National Park to get the approval for filming and needed get through their verification procedure. After that additional agreements from Szklarska Poręba forestry were needed to make it possible to drive certain roads through the forests to get to planned locations. Thanks to the courtesy of the Szrenica hut, it was possible to take shootings at the top of Szrenica Peak. Initially, the peak was surrounded by clouds, but with time it got clearer, thanks to which it was possible to record beautiful mountain panoramas. It was not possible to go up there by car so a snow groomer was needed to transport the crew and equipment.  It is not so easy to rent the snow groomer for private use but luckily we found the solution and managed to organise such transportation. Nevertheless during winter it was not possible to get to certain places even using specialised vehicles.
Filming in Wang Temple in Karpacz and in Glassworks in Szklarska Poręba was a bit easier regarding the weather conditions, but required different approach… It was very interesting to see how things of glass are actually shaped and made by hand. We were even allowed to do some figures by our own with a little help – which turned out to be ideal presents for our second halves;)
During the shooting days in mountains we faced strong wind and temperatures below -10⁰C. Huge attention needed to be paid by moving around because of invisible ice hidden under snow.  The quite heavy equipment was carried by the crew in snow reaching over knees. Also changing lenses in strong wind and snow on mountains peak was an interesting challenge.
In fact each of the shots was related to different challenges and was carried out in different weather conditions. Getting to the final locations was often difficult because of snow and cold conditions. The weather was especially good when recording the waterfalls, where the falling down and melting snow looked awesome. Also the equipment was sometimes exposed to hard weather conditions, but we learned how to properly secure all the elements including lenses and memory cards and how the camera behaves in large temperature differences.
Finally the equipment did it's job perfectly and the crew survived!
The whole shooting was planned for 5 days, so there was no way that our four SR memory cards will be enough for all the film content. Therefore we took with us a small raid array with 16TB of storage configured in RAID6 mode for extra safety and redundancy. After each day of shooting all cards were transferred to the storage and cards prepared for next days shooting. In total  we acquired 4,5TB of RAW audio/video data.
The shooting week was preceded by long organization and preparations but also there was a lot of work after the shooting. Video and audio post-production and color correction work took another 3 weeks. During all shootings 5.1 surround sound and ambisonics were recorded to reproduce all the sound effects of filmed places.
There are five clips available:
Szrenica – filmed on mountain top during extreme weather
Kamieńczyk – filmed inside a waterfall kanion
Szklarka – another, more open waterfall with nice views
Wang – shots from Wang Temple
Glass – short documentation of glassworks and their work
Finally the clips were released in uncompressed 8-bit TIFFs, 12-bit DPX and also encoded with SpinDigital Encoder to h.265 with 300Mbps bandwidth.
Szrenica HD Preview, 7680×4320, 2:25
Kamieńczyk HD Preview, 7680×4320, 3:01
Szklarka HD Preview, 7680×4320, 2:06
Wang HD Preview, 7680×4320, 1:30
Glass HD Preview, 7680×4320, 3:27
List of Equipment
8K camera – modified SONY F65 + 4x 512GB SRmemory cards

16TB redundant storage for daily transfers in hotel

1,4m manual camera slider

Oconnor 2065 + CINE HD camera stand

Leica Summicron-C 6 set fixed lens set

Zeiss 28-80mm T2.9 Compact Zoom CZ.2 Lens zoom lens

Canon CN-E30-300mm T2.95-3.7 L SP zoom lens

Fujinon Cabrio 19-90 zoom lens

Sony BVM-X300 color reference monitor

Chrosziel Magnum + Alladin wireless lens control

Dedolight Dedocolor set – led flood lights

Sekonic C-700 + L-478D light and spectral meter

Roland R88 audio recorder

DPA 5100 5.1 microphone

Sennheiser ew100 / ew500 wireless audio

Sennheiser Ambeo VR MIC – ambisonic microphone

Microphones: Sennheiser Audio-Technica AT897, Audio-Technica AT8015
Team
Eryk Skotarczak – Cameraman, color correction, coordination

Paweł Rybarczyk – Cameraman, edit

Leszek Nowak –  Cameraman

Wojciech Raszewski – sound
Credits, special thanks
PSNC: Maciej Glowiak, Mirosław Czyrnek, Krzysztof Kołat – planning

Schronisko Szrenica

Karkonoski Park Narodowy

Leśna Huta

Willa Uroboros – Krzysztof Kozakiewicz
Information
These movies have been produced in the scope of the Immersify project. On this page you can find a preview of video clips.
If you would like to obtain permission to use
the audio-visual contents in full resolution please contact us:
info@immersify.eu
. We can provide you with the ultra-high definition quality videos in HEVC or uncompressed TIFF/DPX files.