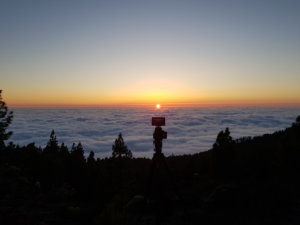 Timelapse video from Timestorm Films
May 2018, La Palma, Spain
#8K #timelapse

Introduction
Ars Electronica subcontracted Timestorm Films to provide a Timelapse video of La Palma, Spain.
Story



Almost seven years after the release of the original "Island in the Sky" timelapse film by Christoph Malin – back then showing timelapse techniques that were revolutionary to say the least – Timestorm Films is back with a state of the art sequel. Shot in native 8K 60fps, this film tries to showcase future display and video technologies.
Challenges
Even though La Palma is a small island, finding the right locations and conditions to shoot can be challenging. Thanks to Christoph Malin's long experience on the island they were able to get great shots almost every night within the 10day shooting period.
List of Equipment
Camera: Nikon D850, Sony A7RIII, Sony A7RII, RED Epic-W

Sensor/Film: 35mm Fullframe Digital, Super35 Digital
Team
Martin Heck, Christoph Malin
La Palma Tourism, La Monta Car Rental