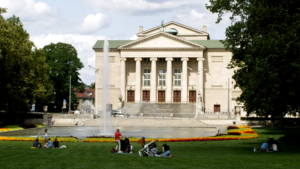 4K recordings from Poznan recorded at 120 frames per second
Poznań, Poland, 2019
Introduction
In order to validate 120fps playback feature implemented in the the Spin Player, the PSNC team recorded several shots from Poznan using a RED EPIC camera. These shots were specially selected to take advantage of the HFR effect, so the shots show objects that move very fast. The recordings were made in two totally different places, the first place was the surroundings of the park and the Poznań opera house, and the second was the work of welder at his workshop.
Technology
RED EPIC camera

Ultra High-speed camera Phantom Flex 4K
Team
Leszek Nowak – Cameraman, Camera assistant, Edit

Jacek Walczak – Cameraman, Camera assistant

Maciej Jaśkiewicz – Cameraman, Camera assistant
Credits, Special Thanks
"Grupa Majchrzaka" for allowing access and recording in the welder's workshop
Information
These movies have been produced in the scope of the Immersify project. On this page you can find a preview of video clips. If you would like to obtain permission to use the audio-visual contents in full resolution please contact us: info@immersify.eu. We can provide you with the ultra-high definition quality videos in HEVC or uncompressed TIFF/DPX files.