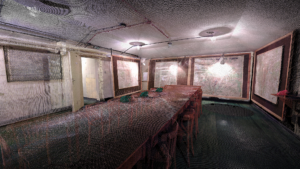 Point cloud rendering of the fallout shelter from 1950s in 8K 3D and 16K 360
Poznań, Poland, 2019
#8K #3D #360 #16K #laserscanning #pointcloud #ambisonics
Introduction
Under a small house on the outskirts of Poznań there is an fallout shelter built in the 1950s prepared for the Mayor of the city. During the communist times, only few people knew about the shelter and its location was a state secret. After the fall of communism, in 1989, the shelter remained unused and, preserving its original equipment, it was transformed into a museum. The PSNC team had the opportunity to go down to the shelter and go back in time to a moment when a nuclear war seemed inevitable. Using a laser scanner, several dozen scans were made and a complex model of the shelter was obtained in the form of a point cloud. Using Blender software, two versions of video clips were prepared – 8K 3D and 360 in 16K.
Technology
FARO Focus 3D X330

Blender Point Cloud Renderer
Team
Jacek Walczak – Scanning, Edit

Maciej Jaśkiewicz – Scanning

Jan Skorupa – Ambisonic sound, effects

Wojciech Raszewski – sound

Błażej Oczkowski – voice-over

Maciej Głowiak – coordination
Credits, Special Thanks
Wielkopolskie Muzeum Niepodległości (

Greater Poland Museum of Independence

)
Information
These movies have been produced in the scope of the Immersify project. On this page you can find a preview of video clips. If you would like to obtain permission to use the audio-visual contents in full resolution please contact us: info@immersify.eu. We can provide you with the ultra-high definition quality videos in HEVC or uncompressed TIFF/DPX files.
Videos
Preview of the content. 360 (move around while watching) and 2D.