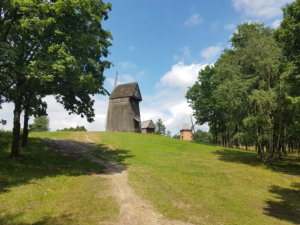 Video clips for folk music in the open-air museum
Autumn 2017, Dziekanowice, Poland
Introduction
The idea of the movie is to show a typical cultural place in the form of a music clip. Near Poznan there is Wielkopolski Ethnographic Park Dziekanowice which presents the reconstruction of historical Wielkopolska village architectures from the 17th to early 20th centuries. This place in combination with an invited local folk band performing on contrabass, hurdy gurdy and singing ethno songs created scenic background for the three extraordinary 8K video clips.
Story



The preparations started with a local site visit two weeks before the shooting. The film crew got familiar with the place and checked the specification for electricity and logistics. It was not a surprise that this houses over 100 years old have no 230V power outlets. Our need for electricity are about 8kW for lighting so special preparation on site had to be taken. After that a few places were chosen for final shooting. In parallel agreements were made with musicians who could perform in the scenery of Ethnographic Park Dziekanowice. This was the key issue for the whole production, because there was need for appropriate music and some live action. Additionally we asked the musicians to wear clothes from proper time period to make everything more attractive to the viewer. Another challenge was to properly record sound of the instruments. Both of them had specialised integrated pick-ups for direct sound output but we decided to record the sound with room mics to preserve the natural feeling an reverberation of the house. Also the natural sound of creaky floor was nice to add in the final mix. We used a DPS 5.1 microphone and also another stereo-pair for recording.
The Park is closed on Mondays so it was the best day to start shooting without paying attention on visitors. All main shots were done on this day. For the second shooting day – music performance records were planned. For this purpose one of the building was closed for visitors so the film crew could work without problems.
The old houses had little windows which was kind of complicated for us. There was simply not enough light inside to shoot good looking 8K material. We decided to take some artificial film lighting with us and placed it outside to simulate sunlight entering through windows. To make it more attractive and put the viewer in that atmosphere – artificial fog was used underlining the light.
Filming inside was also a challenge because of little space. We needed to use wide angle lenses to get the proper shots. Also camera tracks and dolly were used to provide the most smooth camera movements. Also slow edit and longer shots were planned to give the viewer time to look at the details.
The end result is an interesting mixture of old cultural places and music resulting in three video clips. Two of them are alternative edits for the first song (one edit with direct cuts and the other mainly with fades). The third clip presents us another song and has shots only on the musicians.
Finally the clips were released in uncompressed 8-bit TIFFs, 12-bit DPX and also encoded with SpinDigital Encoder to h.265 with 300Mbps bandwidth.
Dziekanowice Fade Edit HD Preview, 7680×4320, 3:42
Dziekanowice Cut Edit HD Preview, 7680×4320, 3:43
Dziekanowice Music HD Preview, 7680×4320, 4:51
List of Equipment
Two 8K cameras – modified SONY F65 + 4x 512GB SRmemory cards

Oconnor 2065 + CINE HD camera stand

Leica Summicron-C 6 set fixed lens set

Zeiss 28-80mm T2.9 Compact Zoom CZ.2 Lens zoom lens

Canon CN-E30-300mm T2.95-3.7 L SP zoom lens

Fujinon Cabrio 19-90 zoom lens

Sony BVM-X300 color reference monitor

Sony BVM-E170A perview monitor

Panther TWISTER camera dolly

Chrosziel Magnum + Alladin wireless lens control

Arri M8, M18 and M40 High Speed Set – daylight film lamps

Dedolight Dedocolor set – led flood lights

Sekonic C-700 + L-478D light and spectral meter

Roland R88 audio recorder

DPA 5100 5.1 microphone

Sennheiser ew100 / ew500 wireless audio

Microphones: Sennheiser MKE2-EW Gold, Line Audio OM1, Line Audio CM3, Audio-Technica AT897, Audio-Technica AT8015
Team
Paweł Rybarczyk – cameraman, edit

Leszek Nowak – cameraman, camera assistant, actor

Eryk Skotarczak – cameraman, camera assistant, color correction, coordination

Mirosław Czyrnek – coordination

Magdalena Madaj – make up

Wojciech Raszewski – sound

Jacek Walczak – production assistance

Rafał Jandy – driver

Rafał Szpiler – driver
Credits, special thanks
Wielkopolski Ethnographic Park Dziekanowice

Malwina Paszek – music performance

Tomasz Grdeń – music performance
Information
These movies have been produced in the scope of the Immersify project. On this page you can find a preview of video clips.
If you would like to obtain permission to use
the audio-visual contents in full resolution please contact us:
info@immersify.eu
. We can provide you with the ultra-high definition quality videos in HEVC or uncompressed TIFF/DPX files.