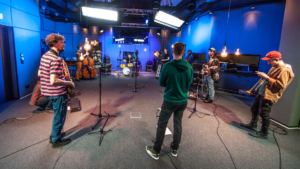 Recording of ambisonic sound from the studio concert of Anomalia jazz band and video in 360° and 8K technologies
Poznań, Poland, 2019
Introduction
In 2019 PSNC started experiments with ambisonic recordings and multi-channel sound projection. A jazz band called Anomalia (members of which are students of the Ignacy Jan Paderewski Academy of Music in Poznań) was invited to take part in the project. The audio content recorded by the band was mixed in a spherical ambisonic space created by 24 loudspeakers in the New Media Laboratory of PSNC. In addition to the sound recordings, 8K and 360° videos were produced to show Anomalia's performance. The audio material was eventually encoded as an ambisonic sound of the third and fifth order, then decoded binaurally and finally combined with a 360° video. All of that required a proper workflow for the production and mixing of surround sound for the Immersify project.
Anomalia band is jazz septet with musicians playing: drums, double bass, guitar, tenor saxophone, soprano saxophone, trombone and trumpet. All recordings were taken in a sound-adapted event room located in the PSNC. The place was illuminated in an atmospheric way using some historic stage lamps. We placed the members of the band in a circle, although we did not try to separate each of the instruments. We wanted to achieve the most spatial and natural recording possible, so different types of microphones were used.
Two video clips were produced – one traditional using SONY F65 camera, and second one as an addition to ambisonics sound was recorded by Insta360 Pro camera.
Technology
DPA 4099 microphones (wind instruments)

Condenser SE2200a microphone (tenor saxophone)

Dynamic Shure SM57 and condenser Audio Technica AT 2050 (guitar)

Ambeo VR Mic from Sennheiser (ambient)

Insta360 Pro camera

SONY F65 cameras

audio equipment including Midas Pro's microphone preamps and KlarkTeknik DN9650

Dante Audio Network, Reaper DAW
Team
Eryk Skotarczak – Light, Cameraman, Camera assistant, Sound assistant

Leszek Nowak – Cameraman, Camera assistant, Edit

Wojciech Raszewski – Sound

Jan Skorupa – Sound
Credits, Special Thanks
Anomalia band: 

Patryk Rynkiewicz – Trumpet

Krzysztof Kuśmierek – Soprano Saxophone

Kacper Krupa – Tenor Saxophone

Adam Kurek – Trombone

Fryderyk Szulgit – Guitar

Piotr Cienkowski – Contrabass

Stanisław Aleksandrowicz – Drums
Information
These movies have been produced in the scope of the Immersify project. On this page you can find a preview of video clips. If you would like to obtain permission to use the audio-visual contents in full resolution please contact us: info@immersify.eu. We can provide you with the ultra-high definition quality videos in HEVC or uncompressed TIFF/DPX files.