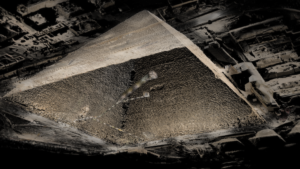 The Great Pyramid in 3D, From the BBC Series Ancient Invisible Cities
#12K #stereoscopic #point cloud

Introduction
The Great Pyramid in 3D: From the BBC series, Ancient Invisible Cities offers users access to a spectacular immersive experience inside the oldest wonder of the ancient world: The Great Pyramid of Giza. With a choice of three starting points users can explore the stunning signature scans featured in the Ancient Invisible Cities series in astonishing 12K. Enhanced by surround sound designs, specially crafted soundtracks, and content-packed commentary, visitors can embark on their own immersive journey around, under, and above the Great Pyramid of Giza.
Story



The tour allows users to explore the interior of the Great Pyramid in a way that has never been possible before. Users will be able to choose the route by which they enter the structure. They'll have the option of ascending passages to the Grand Gallery, going straight to the King's Chamber or going underground to visit the subterranean chamber inside the Great Pyramid. On the way we'll pass through tunnels roughly hacked out by tomb raiders thousands of years ago. The freedom provided by the 3D models also allows the user to cross through the mass of the Pyramid itself, straight through hundreds of metres of solid stone. As they explore, users will be invited to consider why the subterranean chamber was created and to enter a debate about the purpose of the various chambers that still exercises archaeologists to this day.
Challenges
Introducing interactive elements into the story-telling.
Performance issues with the interactive distributed stereoscopic projection (wall and floor).
Procedure
At the Futurelab the contents were prepared for the Deep Space by creating a Unity application where users can move interactively in the 3 dimensional space. We are working with different encoding parameters to get an optimal encoding procedure for point cloud and especially this content. A major task is the story-telling i.e. how to present the content to the user. The aim is to create an interactive complete story out of the different parts of the video.
Credits
ScanLab projects – Scanning and Video production:
Matthew Shaw and William Trossell
Luca Veronese
Soma Sato
James White
Tom Brooks
Max Čelar
Dorka Makai
Reuben Carter
Nicky Ovidiu
Manuela Mesrie
BBC Studios:
Location Producer: Magdy El Rashidy

Sound Design: Pascal Wyse

Composer: Ty Unwin

Production Co-ordinator: Sarah Lever

Production Managers: Sarah Forster, Michelle Clinton

Producers: Johnny Crockett, Sam Elvin

Executive Producer: Chris Granlund